Deadline inden d. 6. december 2013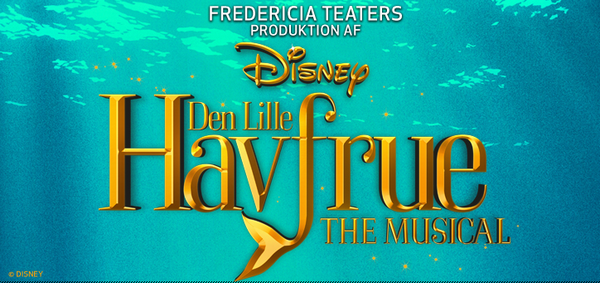 Audition - Den Lille Havfrue, The Musical (Fredericia)
Tilmeld dig vores gratis teaterregister:
KLIK HER
Til Fredericia Teaters produktion af Disneys DEN LILLE HAVFRUE - The Musical i Operaen og efterfølgende på Fredericia Teater søger vi musicalperformere på højeste niveau.
Audition afholdes i Fredericia i dagene 6. + 7.12. med mulighed for call-back d. 8.12.
Tilmeld dig via denne formular og upload cv og billede. Herefter udvælger teatret de performere som kan komme i betragtning. Tilmelding senest 29.11. Besked til alle om deltagelse d. 1.12.
Audition vil for langt de fleste bestå af en danseprøve og efterfølgende sangprøve. Alle skal forberede en sang i stilen, og kan i tilfælde af call-back blive bedt om at forberede en specifik sang og tekst(scene) fra forestillingen.
Til stede ved audition vil være:
Instruktør og koreograf Lynne Formato, pianist Martin Konge, kunstnerisk leder Søren Møller.
ARIEL The heroine of the story who longs to be human. Strong Soprano Belter, Dynamic Performer - Excellent Pantomime Actress.
PRINCE ERIC Adventurous Prince who captures Ariel's Heart. Charming performer with a sensitive nature - Strong Actor, Tenor.
SEBASTIAN (Male or Female) Meticulous and anxious crab who tries to keep Ariel safe. Strong singer and actor.
FLOUNDER (Male or Female) Ariel's sincere and sensitive best friend who is loyal to the end. Spunky Singer/Actor.
KING TRITON Rules the sea and is a force to be reckoned with. Commands the stage as a strong leader but also has the tenderness like a parent would. Mature, Strong Actor.
THE MERSISTERS - AQUATA, ANDRINA, ARISTA, ATINA, ADELLA, ALLANA Ariel's siblings and full of personalty and sass. Six distinct characters who are very strong singers and dancers.
URSULA Manipulative Sea Witch who tries to overthrow King Triton. Cunning and devious and will stop at nothing to get what she wants. Mature Performer who can bring out this villian's humor while finding texture in Ursula's complexity. Very Strong Singer and Actor.
TENTACLES Extensions of Ursula, possibly the poor unfortunate souls who are now trapped in her lair. Performers should work well together and move as a unit. Singers/Actors.
FLOTSAM and JETSAM (Male or Female) Ursula's slippery spies. Electric eels who are sinister, sneaky, underhanded, and devious. Singers/Actors.
SCUTTLE Know-it-all seagull who serves as Ariel's expert on humans, funny, and up-beat. Good comedic timing and needs to have fun with his eccentricities. Singer/Actor.
GULLS Scuttle's flock of zany "back'up" singers who help explain human stuff to Ariel. Singers/Actors.
GRIMSBY Prince Eric's prim and proper valet who is rigid and constantly trying to giude Prince Eric towards the throne. Strong Actor who sings.
CHEF LOUIS (Male or Female) Over-the-top head chef in the palace who is always wild and frenetic. Strong Comedic Singer and Actor.
CHEFS Chef Louis' assistants. Strong Singers.
CARLOTTA Headmistress in Prince Eric's palace and Ariel's greatest human ally who is warm and maternal. Actress.
Sådan kommer du i betragtning til alle opgaver!

Opret profil (Gratis)
Log på eksisterende profil
Mvh
Tommy Duus
DASK-online
---