Deadline inden d. 11. juli 2011
407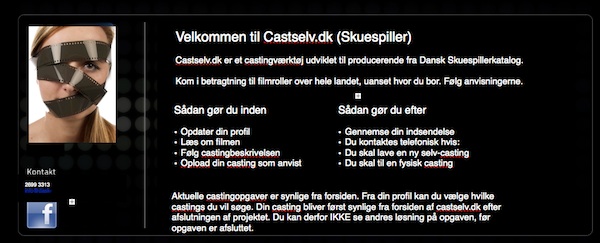 CastSelv: Mail roles wanted for English-speaking horro movie
The following characters are sought as the main roles in Danish-produced film. The roles should be able to converse in English, but not necessarily with any specific accent (except for any noticeable danish accent for the two male leads).
Filming of the horror-thriller will take place in a castle in the southern part of Sjælland from September 3rd until september 20th. Salary is to be negotiated - transport, board and lodging is included.
Female lead: 16-25 years old. Beautiful and posh looking.
Male lead #1: 18-25 years old, handsome and preppy looking.
Male lead #2: 18-25 years old, special looking, dark east-european look.
The second round of castings will take place in Copenhagen C. The dates will be arranged separately.
Casting assignment
Make a short film clip where you:
- Tell you name, age, nationality and a fun fact about yourself.
- Show your face in profile and a full body view.
- Act frightened and scream
Be natural and have fun with it.
Oprettet på CastSelv d. 01-06-2011 af bandsproductions
Opgaven lukker d. 10-07-2011
Log ind på Castselv for at indsende din egen casting-video til opgaven.
---